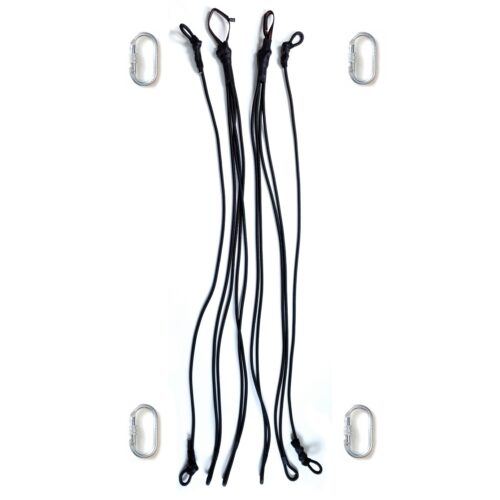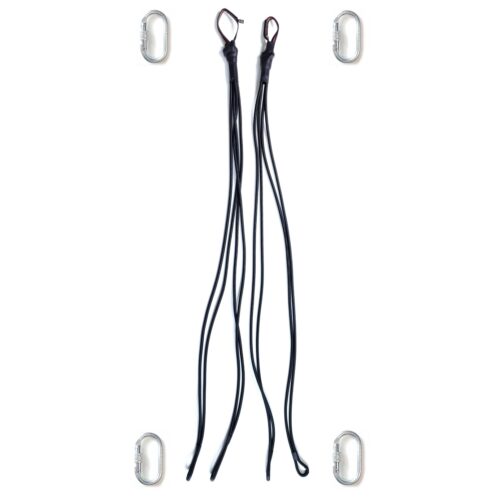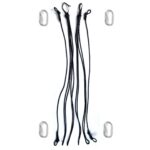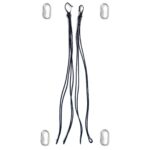 Adjustable bungee cord kit for harness calisthenics, acrobatics and yoga hammocks
€45,00 – €98,00
Description
Additional information
More information:
Description
This bungee cord kit is one of our most versatile products, This model made 100% in Europe allows to be use it with a standard hammock , as well as with harness.
Using it with the hammock give a great playful feeling but also add another dimension to the practice, making some exercises (abs exercises for example) super intense and really fun. This bungee cord kit gives a gradual pull so, in some postures where you are in contact to the floor adds a great assistance holding part of your weight and not be fully hold by the hammock, like with a normal aerial yoga hammock.  It Is also possible to use the hammock pretty much like a harness and explore many acrobatics and challenging positions.
Used with a harness allows to practice vertical dance, bungee harness and intense and funny body weight workouts.
For what it can be used for?
Aerial yoga, aerial pilates and fitness: it allows to use the aerial yoga hammock in so many different ways, from assisting positions to intense workouts, to handstand training, back bends and much more.
Acroyoga and partner yoga: it is really good to train flips and other exercises.
Bodyweight training: excellent to add an higher level of intensity to the workout on the floor or rings.
Acrobatics: great for practicing backflip and front flips progression in a very accessible and progressive way.
Dance: using less body weight allows to practice jumps and movements with less gravity, excellent for choreographies and training.
Calisthenics: it is a great assistant for holding different positions in the full form, allowing the nervous system to get use to it, while gains the strength needed for the exercise.
The best toy for children and adults…
How many cords should i choose?
The best thing of our bungee kit is that is the only one really designed to be adjustable. It's easy to add and take out ropes for practising different exercises in one session. This characteristic allows you also to adapt the bungee cord kit to a different person very quickly.
full hold, it means that the bungee will be very strong pulling you up, and you will have to use momentum to fully stretch the cords. Ideal for jumping and other powerful moves, great to work fully in the air or just touching the floor a bit. For example if you are learning moves like the back flip, you can adjust the bungee height in the way that you wouldn't touch the floor if you fail when you are upside down during the movement.
soft hold, means that the bungee cord will allow you to jump and get suspended in the air, but in a softer way, with a larger range of motion. With the configuration and momentum you will be available to arrive to a full extended cord, so is excellent as an assistant for bungee dance and acrobatics. You can perform all kind of movements with a flying feeling. It's great to use it in contact with the floor and if you use it with the hammock, you will find a different dimension to it.
progression assistance for strength training:  it will give a softer lift with 2, 4 or 6 cords (16kg 32kg) and it will allow you to train all kind of body weight exercise that were impossible before, making easy progressions with part of your weight hold by the bungee cord. In this way you can perform the full form of the exercise from almost the beginning. Ideal for beginner and advanced handstand training, calisthenics, fitness and yoga. Great for a nice a soft pulling in poses like the bridge.
Additional information
| | |
| --- | --- |
| Lengh | 1m, 1,5m, 1,7m, 2m |
| Strength | 6 cords in 2 points full hold (40kg a 55kg) or soft hold (55kg a 70kg), 8 cords in 2 points full hold (55kg to 70kg) or soft hold (70kg to 85kg), 10 cords in 2 points full hold (70kg to 85kg) or soft hold (85kg to 100kg) |
| Carabiners | without carabiners, with 2 carabiners, with 4 carabiners |
how much can you adjust the strength of it?
if you choose our 6 cords model, it will give you the possibility to adjust the strength of the bungee by 8 kg each side
If you choose our 8 cords model, it will give you the possibility to adjust the strength of the bungee by 16 kg each side
If you choose our 10 cords, you can adjust the strength of the bungee by  18 kg each side
Is possible to use the bungee to one point?
Yes! you can use it attaching it to 2 points or to 1 point
Is it possible to use the bungee cord with the yoga swing?
Yes! you can use it with your yoga swing, for that just consider that you will need a higher attaching point. Some times is also nice the bounce feeling with the hammock quite low close to the floor to play with the floor with less gravity.
Can i use the bungee cord if my ceiling have a standard height of 3m?
Yes! in that case choose the shorter version of the bungee kit. if you are going to use with an harness it will not require any adjustment, more than a height regulator, and if you are going to use it with a yoga hammock you can shorten a bit changing the knots places with 2 polyamide rings of 30cm.
how to choose the length of the bungee cord.
Considering that the cords will extend  approximately 110% in its full stretch, will give you to measure one is without weights and the other in extension.
The kit of 1m will extend approximately 2,20m
The kit of 1.5m will extend approximately 3.15m
The kit of 1,70 will extend approximately 3,57m
The kit of 2m will extend approximately 4,40m