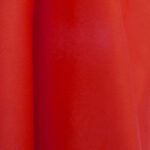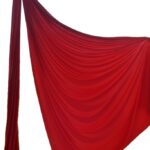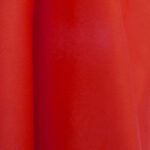 Red Aerial silk for acrobatics
€31,80 – €106,00
Description
Additional information
Description
Aerial Living offers a high quality fabric for acrobatics. The width is 1.60m. This allows a stronger grip. The finish of the silk offers a non-slip textured finish providing a better grip than other aerial silks. The material is medium stretch, which is both comfortable and excellent for drops. You should decide upon a length of fabric which is double the height of the area you are using, then add two metres for the knot. For performance drops, you will require a minimum of 16 metres as you can then allow about 7 metres of silk between the anchor and the floor but to practice every where at the park or at home is nice to have a 10 metres silk, you can do many tricks to and will be easy to carry.
Width: 160 cm – 63 inches
approximate density: 100 g / m2
medium stretch  (+/-10%  excellent for drops)
non-slip textured (Great for beginners, very easy to climb and make figures)
attractive sheen  Not to much
made in Spain The shipping is fast and is no problems with the importation like happen when you buy from U.S. or china.
New Brand 
hooks are not provided Important
Note:  Our fabrics are good for acrobatics in the air, because they have good anti slip texture, are also very durable, the silk gives a bit of shock absorption for drops and is also very good  to make hammocks for children. But this type of fabric (medium stretch) is not normally used for yoga hammocks, which are made of low stretch silks. If you are looking for a fabric to make a an aerial hammock  please check ower news Aerial silks to make hammocks, this ones are very Low stretch and 2.50 metres width.
Additional information
| | |
| --- | --- |
| colours | Red |
| Metres | 6 metres, 8 metres, 10 metres, 12 metres, 14 metres, 16 metres, 18 metres, 20 metres, 22 metres, 24 metres |
| Width of the silk | 1.60 metres |
| Silk Elasticity | medium stretch + – 10% which is both comfortable and excellent for drops. |
| Other colours | from 18 meters have all colors available. Write us first to check for availability |
| Shipping | The shipping cost to Spain is 9.90 euros and for the rest of the world is 24,50 euros (a very good price!) |
| International Shipping | We charge per order 24.5 euros. That means if you buy 2, 3 or 5 swings or silk we only charge to you the costs of the first one and the rest will be FREE SHIPPING, no matter where you are or how many products you have ordered. in this way you will find WHOLESALE prices just buying a few units. shipment takes 5 to 10 business days to worldwide. |