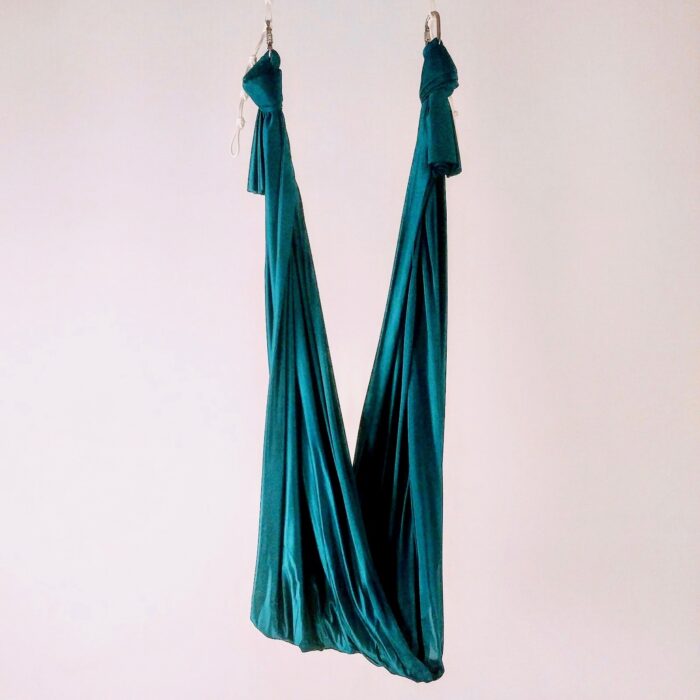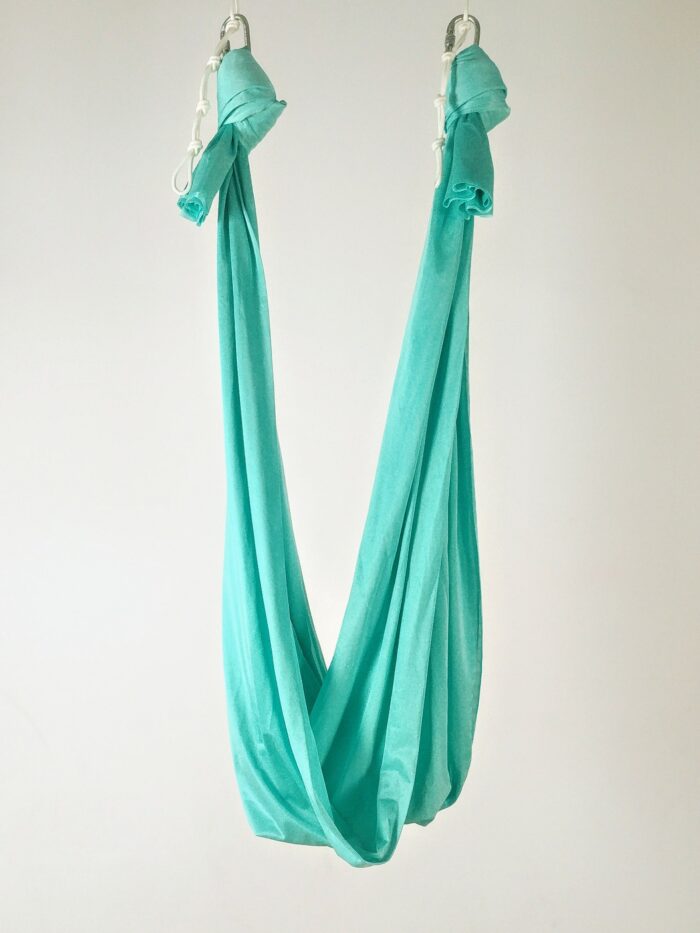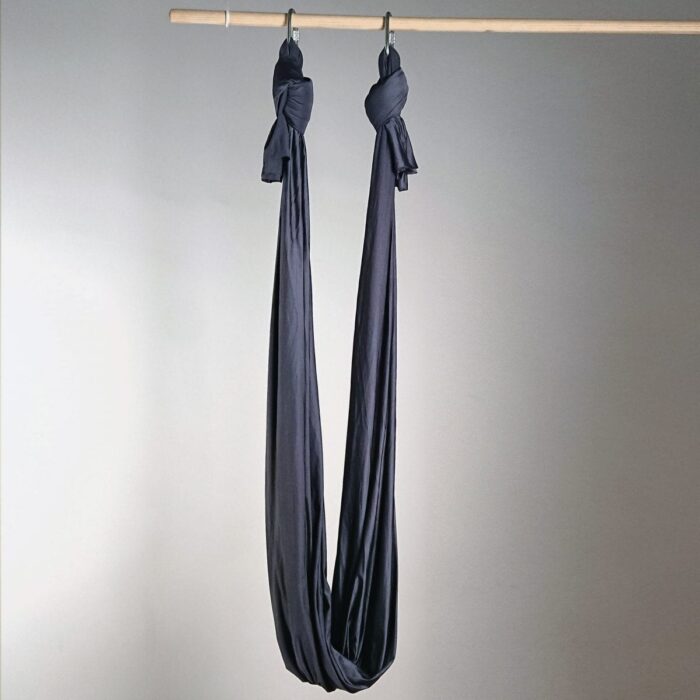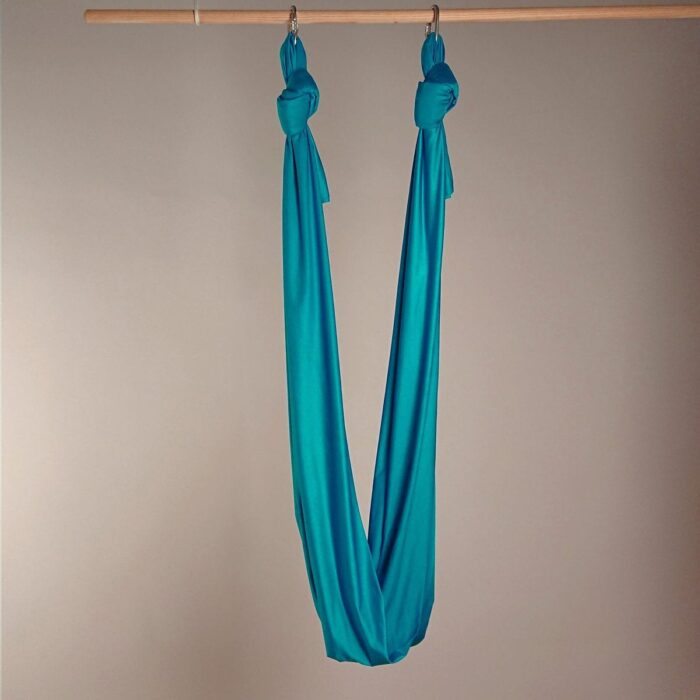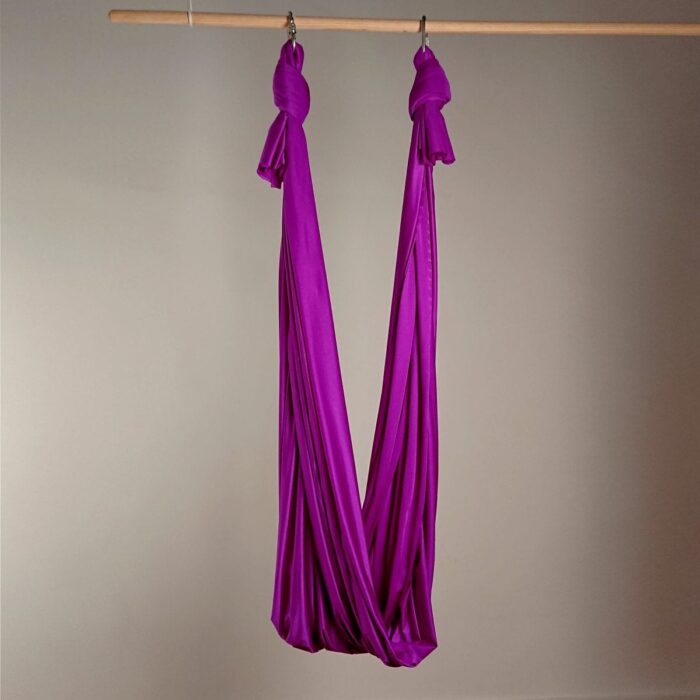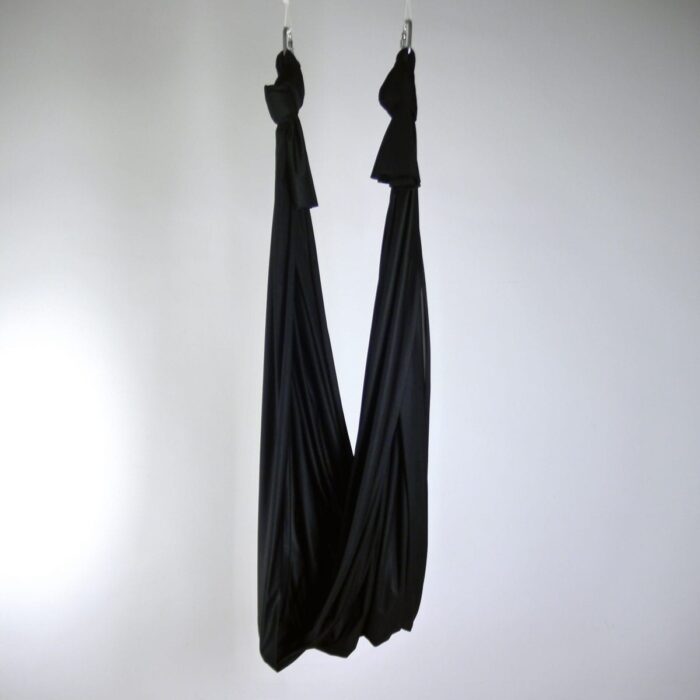 Wholesale – bigger quantities offers aerial yoga hammocks
€461,40 – €1.048,60
Description
Additional information
Description
Wholesale – bigger quantities offers aerial yoga hammocks
English:
Pack of 6,8, 10, 12 or 14 aerial yoga hammocks for antigravity, aerial yoga and aerial pilates.
Contact us for any doubt before purchasing. Apart from the discount in the price of the hammocks by purchasing this pack there is also a discount for shipping, because you only pay for sending a small package (max 2.50kg), but actually sending such a large package costs us at least twice as much .
Offers for yoga studious and gymnasiums
QUALITY:
This fabric was designed by us to make yoga hammocks so is perfect for that, but also the technical qualities makes it great and secure.
In lengthwise is almost a Non-stretch fabric  (it stretches but very little),  but it does stretch sideways, this characteristic makes it very comfortable and stable for practicing yoga poses. If you sit on the swing this will not stretch toward the ground. And if you make Savasana (or just taking a nap on it), you'll be pretty straight horizontally and it will be very comfortable (thanks to the elasticity sideways). Our polyamide silk is produced by us in Spain, especially for yoga hammocks and is NO TOXIC.
The fabric is very resistant, 1200kg, very elegant and soft to the touch.
The width is 2.50m.
All the accessorise, ropes and climbing carabiners are certificated CE
If you choose the pack with different colors please write a note when you place the order indicating the colors you would like to have.
this hammock includes:
a hammock made with 5m of fabric (this is not the length of the hammock, but the length of  the fabric we use to make this kind of hammock)
2 high regulators of 1m made with climbing rope
4 climbing carabiners
It does not include the ceiling hooks if you need you can purchase them here:
Español:
Pack de 6,8, 10, 12 or 14 hamacas aéreas de yoga antigravity, pilates aéreo y danza aerea.
Póngase en contacto con nosotros para cualquier duda antes de comprar. Además del descuento en el precio de las hamacas al comprar este paquete, también hay un descuento en el envío, ya que solo se paga el envío de un paquete pequeño (máx. 2,50 kg), pero en realidad el envío de un paquete tan grande nos cuesta al menos el doble.
Ofertas para estudios de yoga y gimnasios.
CALIDAD:
Esta tela fue diseñada por nosotros para hacer hamacas de yoga, por lo que es perfecta para eso, pero también las cualidades técnicas lo hacen excelente y segura.
En longitud es un tejido casi no elástico (se estira muy poco), pero se estira a lo ancho, esta característica lo hace muy cómodo y estable para practicar posturas de yoga. Si te sientas en el columpio esto no se estirará hacia el suelo. Y si haces Savasana (o simplemente tomas una siesta), serás bastante recto horizontalmente y será muy cómodo (gracias a la elasticidad lateral). Nuestra tela de poliamida es producida por nosotros en España, especialmente para hamacas de yoga y NO  ES TÓXICA.
El tejido es muy resistente, 1200kg, muy elegante y suave al tacto.
El ancho es de 2,50 m.
Todos los accesorios, cuerdas y mosquetones de escalada están certificados CE.
Si elige el paquete con diferentes colores, escriba una nota cuando haga el pedido indicando los colores que le gustaría tener.
esta hamaca incluye:
una hamaca hecha con 5 m de tela (esta no es la longitud de la hamaca sino los metros de tela que usamos para hacer este tipo de hamaca)
2 reguladores altos de 1m hechos con cuerda de escalada.
4 mosquetones de escalada
No incluye los ganchos de techo pero si los necesitas los puedes comprar aqui:
Italiano:
Pack di 6,8, 10, 12 or 14 amache yoga antigravity, pilates aereo o danza aerea.
Contattaci per qualsiasi dubbio prima di acquistare. A parte lo sconto nel prezzo delle amache acquistando questo pack c'è anche uno sconto per la spedizione, perché pagate solo un invio di un pacchetto piccolo (max 2,50kg) pero in realità inviare un pacchetto così grande ci costa almeno il doppio.
Offerte per studi di yoga e palestre.
QUALITÀ:
Questo tessuto è stato progettato da noi per realizzare amache yoga e sue qualità tecniche lo rendono perfetto e sicuro.
In senso longitudinale è quasi un tessuto non elastico (si estende molto poco), ma si allunga in larghezza, questa caratteristica lo rende molto comodo e stabile per la pratica delle posizioni yoga aereo e pilates aereo. Se ti siedi sull'amaca, questa non si estenderà verso il suolo. E se fai Savasana (o semplicemente fai un pisolino), sarai abbastanza dritto in orizzontale e sarà molto comoda (grazie all'elasticità laterale). Il nostro tessuto in poliammide è prodotto da noi in Spagna, specialmente per le amache yoga e NON E' TOSSICA.
Il tessuto è molto resistente, 1200kg, molto elegante e morbido al tatto.
La larghezza è 2,50 m.
Tutti gli accessori, le corde e i moschettoni rampicanti sono certificati CE.
Se scegli il pack con diversi colori per favore scrivi una nota quando fai l'ordine indicandoci i colori che vorresti avere.
questa amaca include:
un'amaca realizzata con 5m di tessuto (questa non è la lunghezza dell'amaca ma del tessuto che usiamo per realizzare questo tipo di amaca)
2 regolatori alti di 1m realizzati con corda da arrampicata
4 moschettoni da arrampicata
Non include i ganci del soffitto ma se ne hai bisogno puoi comprarli qui:
Français:
Pack 6,8, 10, 12 or 14 hamacs de yoga aériens pour l'antigravité, le yoga aérien et le pilates aérien.
Contactez-nous pour tout doute avant d'acheter.
Offre pour les studios de yoga et les gymnases. Outre le rabais sur le prix des hamacs en achetant ce pack, vous bénéficiez également d'une réduction sur les frais d'expédition, car vous ne payez qu'un petit colis (max. 2,50 kg), mais en réalité, il nous en coûte au moins deux fois plus.
QUALITÉ:
Notre hamac de yoga aérien (antigravité) est spécialement conçu par nos soins dans un tissu résistant. Il est étirable en largeur et non longueur pour un soutien confortable d'une partie ou de l'ensemble du corps.
Douce au toucher, sa texture vous assure une pratique confortable. D'autre part, notre gamme de couleur apportera une note décorative à votre intérieur.
Pour une pratique en toute sécurité, accessoiriser est certifié conforme aux normes de l'Union Européenne. Les régulateurs de hauteurs sont fabriqués à partir de corde d'escalade très solide et les mousquetons sont en acier.
Le tissu n'est pas toxique,
très résistant, 1200kg, très élégant et doux au toucher.
La largeur est de 2.50m.
Tous les accessoires, cordes et mousquetons d'escalade sont certifiés CE
Si vous choisissez le pack avec différentes couleurs, veuillez écrire une note lorsque vous passez la commande en indiquant les couleurs que vous souhaitez utiliser.
ce hamac comprend:
un hamac fait avec 5m de tissu (ce n'est pas la longueur du hamac mais le tissu que nous utilisons pour fabriquer ce genre de hamac)
2 hauts régulateurs de 1m réalisés avec corde d'escalade
4 mousquetons d'escalade
Il n'inclut pas les crochets de plafond
Additional information
| | |
| --- | --- |
| colours | Red, White, Turquoise, Fuchsia, Black, Blue, Grey, Various colours, Purple, Blue petroleum, Aqua |
| Width of the silk | 2.50 metres |
| Silk Elasticity | almost no stretch |